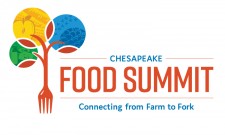 Leaders from multiple sectors will gather October 15th to focus on the regional food supply chain, identifying what is working well, where the gaps are, and what can be done collaboratively to fill them.
WASHINGTON, September 26, 2019 (Newswire.com) - ​​​​​On October 15th, the Washington Regional Food Funders will host the second annual Chesapeake Food Summit, with support from the Arabella Advisors Good Food team. Building on the momentum of last year's inaugural Summit, the 2019 Chesapeake Food Summit will focus narrowly on the progress and remaining gaps in the region's supply chain, and what more can be done to deliver healthy, affordable, and sustainably produced food for all.
The 2018 Chesapeake Food Summit assembled over 400 senior leaders from all sectors of our region's food economy, including executives from the region's most significant food businesses, senior government officials, major philanthropists, leaders from innovative community groups, community stakeholders, and local entrepreneurs. Together, this diverse group celebrated progress, identified needs, and mobilized resources toward improving the region's food system. No other event in the region brings together at this scale the many leaders from across our food system: farmers, fishers, producers, distributors, retailers, chefs, nonprofit leaders, donors, investors, policymakers, healthcare representatives, educators, media, and consumers.
This year's Summit will include sessions that highlight success stories from across the regional supply chain, interactive workshops and networking sessions for participants to find common ground with leaders in different sectors, and concrete conversations on how to scale the biggest opportunities for progress in the region's supply chain and catalyze action following the Summit.
"The Summit creates the opportunity to bring diverse participants across our food system to the table to accelerate a more nutritious, sustainable, and equitable regional supply chain," said Katie Jones, Director of the Bainum Family Foundation's Food Security Initiative and Washington Regional Food Funders Steering Committee Member.
According to Jeff Cherry, CEO of Conscious Venture Lab and one of the Summit's co-chairs, "The demand for good food cuts across geography and socioeconomic status. It's time to engage investors, entrepreneurs, and business leaders to meet that demand with a better food system."
Another Summit co-chair, Beverley Wheeler, Director of DC Hunger Solutions, agreed: "We'll only solve these issues by having all of the leaders across our region's food system together in one room. The Summit has become the venue for doing just this."
The Summit will take place at Dock 5 at Washington DC's Union Market, a historical center of food commerce and a space renowned for launching and scaling food businesses and creating community around diverse yet like-minded entrepreneurs.
Like last year's summit, this year's event is being produced by Arabella Advisors' Good Food team.
For additional information about the Chesapeake Food Summit, please visit www.chesapeakefoodsummit.org.
Journalists, bloggers and podcasters interested in receiving a media pass to cover the Summit should identify themselves and their publication in an email to foodsummit@arabellaadvisors.com.
About the Chesapeake Food Summit
The Chesapeake Food Summit is a unique opportunity for our region's food system leaders to come together as one community to form new relationships within the food sector, share the latest innovations, and build on the great work already happening to strengthen the Chesapeake region's growing food economy. This Summit is co-chaired by Jeff Cherry of Conscious Venture Lab; Seth Goldman of Honest Tea and Beyond Meat; Haile Johnston of The Common Market; Dorothy McAuliffe, former First Lady of Virginia and Share Our Strength; Jodie McLean of EDENS; Ryan Shadrick Wilson of Boardwalk Collective; and Beverly Wheeler of DC Hunger Solutions. The Summit is generously supported by a broad range of foundations, businesses and other stakeholders. The list of sponsors can be found here.
About the Washington Regional Food Funders
The Washington Regional Food Funders (WRFF) is a network of philanthropists, foundations, and companies working together to foster a sustainable, equitable, and thriving food system in the Chesapeake region. WRFF is proud to host the Chesapeake Food Summit and continue the regional conversation around strengthening the Chesapeake Foodshed. WRFF is a project of the Windward Fund and is managed by Arabella Advisors.
About Arabella Advisors
Arabella Advisors provides a full spectrum of advisory and support services to help our clients achieve their philanthropic goals. Comprised of over 200 creative problem solvers, the Arabella team guides clients to the most efficient path from their inspiring ideas to life-changing impact. We work across the country and around the world on a wide range of issues—including Good Food—always with a focus on advancing individual client needs and goals. www.arabellaadvisors.com.
Source: Arabella Advisors
Share: